Who is Randy and the Your True Voice Studio?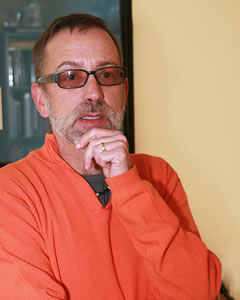 Randy Buescher is an internationally recognized expert in non-classical vocal technique. He is also well known as a clinician, author, vocal therapist, and researcher. His clients have won Tony Awards, Dove Awards, and Emmys, have been nominated for Grammies, and been American Idol finalists. He has also worked with artists from every major label.  He has presented and been a speaker for the Voice Foundation, NATS, Naras, and the Broadway Theatre Project, along with various universities, high schools and other institutions. He currently has two young students on Broadway and is the head of A&R and development for a new record label.
So, those are the facts.  Let's get down as to why I started doing this.
I needed money, which is why most singers start teaching voice.  I was singing in a high end professional group, and the girl I was dating at the time suggested I start teaching at the time suggested I started teaching voice.  Yet, all she did was complain that it sucked.  I went into it reluctantly.
So, I started out at out at a small music shop in Aurora with about 6 students, and I loved it.  After 2 months I had 40 students.
After teaching for 2 years, I reexamined myself.  I asked myself several questions:
 Do these students really want to sing art songs?  The answer was no.  They wanted to sing musical theater or pop.
 Do I know how to put that voice together?  No, I didn't.  I had to learn.
 What do I do now?  I researched various approaches, and settled on Seth Riggs' Speech Level Singing technique/  It was the best thing I ever did.  It is the same approach that Brett Manning, with Singing Success, Roger Love, and Tom Mckinney uses.  However, I truly understand it.  I've been published in peer reviewed journals and also have a degree in speech language pathology.
I get this stuff inside out.  You deserve that.